Master Plan Phase: Proposal and Funding Request Documents
August 11, 2014: York Board of Selectman Action Request from YVSC
The YVSC filed a Request for Action by the Board of Selectmen at the BOS meeting on August 11th. We asked the BOS to approve a consulting contract with The Downtown Revitalization Collaborative (TDRC) to develop the Master Plan for York Village. This village project is an exciting and complicated project that requires the assistance of multiple professional disciplines to move it forward. The Committee is confident that TDRC will be a great partner for the town in setting up the Village for the future.
The Board of Selectman approved the funding of the next phase of the Village project, the Master Plan Phase. To read the full agreement, York Village Study Committee Agreement with TDRC (pdf)
As is normal town practice, this meeting was open to the public and available for watching online and on Time Warner Channel 3. The video of the entire August 11, 2014 BOS meeting is online. (The YVSC presentation and BOS discussion starts at approximately 2:50 minutes into the video and ends approximately at 19:20 minutes. You can also read the text of YVSC Chairman, Ron McAllister's presentation to the BOS.
For your convenience, we have recreated two key charts from the proposal below.
Village Master Plan Project Strategic Approach
Click for larger image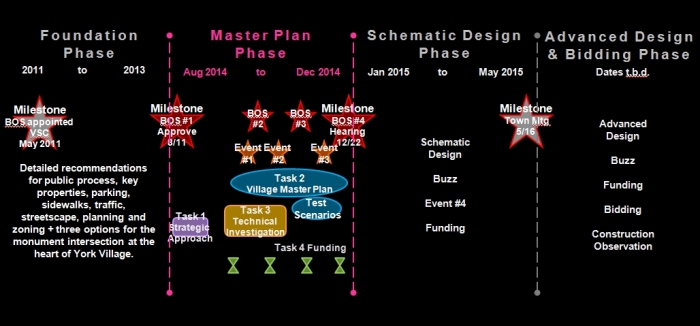 Master Plan Phase detailed work plan