YVS Committee Members
Name and Affiliation
Ron McAllister, Chairman
Stu Dawson, Landscape Architect
Antonia DeSoto, Local Merchant
Gloria Gustafson, York Village Assoc. Board
Christine Hartwell, Web Developer
Joel Lefever, Museums of Old York
Dean Lessard, DPW Supervisor
York Hospital
Dylan Smith, York Town Planner
Peter Smith, Planning Board Chair
Scott Stevens, Preservationist
Lew Stowe, Planning Board
Robert Palmer, BOS Representative
Stephen Burns, York Town Manager
Others who have also served as members of the Village Study Committee at various times: Mary Andrews, Dawn Fernald, Christine Grimando, Jody Merrill, Ron Nowell, Steve Pellitier, and Jennifer Smith.
About the York Village Study Committee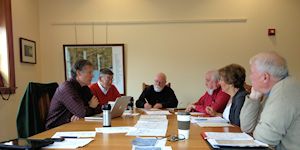 Background
The York Village Study Committee (VSC) was formed by the Town's Board of Selectmen in May 2011. Charged with developing ways to revitalize York Village, the VSC began a process of visioning by asking people what they like and don't like about living, working, or visiting the Village.
Mission of the Village Study Committee
The mission of the Village Study Committee is to establish a framework that will promote the vitality and beauty of York Village as a dynamic, safe, and sustainable town center reflecting the history of a community that is both welcoming to visitors and supportive of local businesses.
Contact Us
People who wish to provide feedback to the VSC about any issues of Village improvement can do so as shown below.
You can contact the Village Study Committee via email at info@YorkVillage.org. You can also send mail to our mailbox at town hall to:

York Village Study Committee
Town of York
186 York Street
York, ME 03909
You may also contact Dylan Smith, Director, York Planning Department at 207-363-1000.