YVSC Meeting Minutes
Click year below to view dates
All regular meetings of the YVSC were open to the public.
YVS Committee Document Archives
Documents on this page provide an archive for the committee's work since its formation in 2011. Here you will find reports, presentations, and meeting notes through June 2014 after which the master plan development phase began.

Minutes of all regular YCS committee meetings from 2013 to the present are also provided here.
BOS Reports • 2013 Options • Stakeholder Meetings • YVS Committee Minutes
Reports to Board of Selectmen (BOS) and Town Deparments and Committees
(including video where available)
January 2, 2012, VSC Progress Report 1
October 11, 2012, VSC Progress Report 2 Complete Report with Appendices
November 19, 2012, BOS Meeting: Video(YVSC presentation and discussion begins at approx. 81mins in and ends at 119mins), Presentation: Designing York Village for the Next Century (pdf)
February 25, 2013, BOS Meeting: Video (Begins at approx 68mins - 78mins), Text of Chairman's Comments
April 8, 2013, Workshop with Board of Selectmen: Video (Runs from 0mins to 48mins), Text of Chairman's Comments
August 29, 2013, Joint Workshop/Progress Report 3: BOS, Historic District Commission, York Village Study Committee, Planning Board Video (Village Discussion Runs from 2mins to 66mins), Text of Chairman's Comments
March 2014, Progress Report 4: Cover Letter to BOS VSC Progress Report #4 (Complete Report), Appendix B: Request for Qualifications

June 20, 2014, VSC Progress Report 5. (Note: Appendix A is intentionally blank, it was incomplete at time report presented to BOS.)

June 23, 2014, BOS Meeting: Video (YVSC Discussion begins at 1 hr 4 mins). Text of YVSC Chairman's Comments
VSC Visioning Options 2012-2013
In 2012-13, the VSC underwent a visioning process. The committee held a series of stakeholder meetings (see below), and requested and received input from interested individuals via e-mail, letter, and telephone.  Eventually, the group settled on three options to improve traffic patterns in the heart of the Village.  These options are detailed on the Options for Tomorrow page. The 2013 community feedback page explains this further.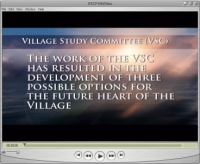 PSA #1 Three Design Concepts Video presentation on the three options resulting from initial concept development phase (2012-2013). Committee members explain background and key aspects of each option developed.
Notes from Meetings with Village Stakeholders 2012
February 16, 2011 - Initial Conversation with Maine Downtown Center group and Village leaders: Kickoff of a 21st Century Revitalization Effort
Group Considers Merits of York Village, By Susan Morse, Writer, Seacoast Online
More than 50 residents, town officials and business owners told the director of a downtown revitalization agency Wednesday there's much to love about downtown York Village. Roxanne Eflin, program director the Maine Development Foundation in Augusta, asked about the village's best selling points to kickoff an exploration of how to make this section of town a more vibrant, pedestrian-friendly place...more